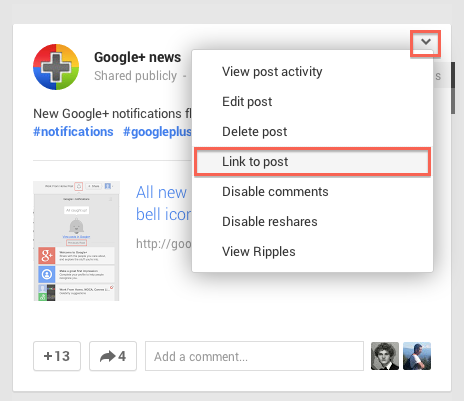 Three Quick Ways to Get Permalinks for Any Google+ Post
Three Quick Ways to Get Permalinks for Any Google+ Post
---
Permalinks are permanent links or URL's to any individual web entity; for example a blog post, tweet, website, etc., that doesn't change over time and is always permanent.
The whole idea behind this is, even if a website hierarchy or layout changes you could still reach that page using this special link called permalinks.
With regular websites or webpages permalinks are most of the time same as the link that appears on the browser's address bar. But with social networks they are hidden since a large number of posts are shown in a single page for eg. Google+ shows each posts as a card after the new layout design.
Why do you need permalinks for Google+ posts?
Well, sometimes you want to share a link of an Google+ post by other means i.e with other social networks like facebook, twitter, stumble upon or even email the link to someone. Permalinks come quite handy in that case.
There are 3 ways to get permalinks for a Google+ post.
Option #1. Click on the Date/Time stamp of a post (refer image)
Option #2. Hover over the Date/Time stamp of a post, right-click and choose Copy Link Address option
Option #3: If you are logged in into Google+, click on the down arrow on the top right of a post and choose Link to post. In the appearing dialog, copy the URL.
Enjoy sharing Google+ posts with other social networks, bookmarking sites or even embedded in your sites.