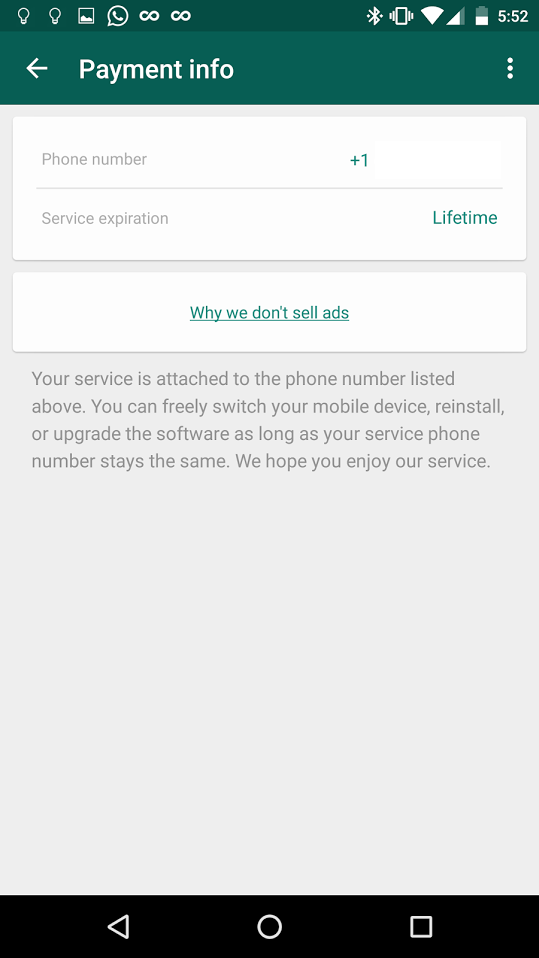 WhatsApp Rolls Out Lifetime Free Subscription!
WhatsApp Rolls Out Lifetime Free Subscription!
---
Most popular smartphone messaging app WhatsApp is rolling out FREE Lifetime subscription to its loyal users on its Android platform and other platforms.

If you are a WhatsApp user you must be paying $0.99 cents a year to use your WhatsApp messaging service. It is still relatively very cheap for this wonderful service.
The good news is, you don't even have to pay that $0.99 cents fee any longer. They are issuing FREE lifetime service at no cost and also the promise of No AD's.
Here is the dialog I got prompted today on my WhatsApp application on my Android.
WhatsApp FREE Lifetime Service Notification

This is great news for WhatsApp users that now you don't have to keep track of your payment information on the app. Moreover this is going to put out a lot of other messaging apps out of business.
Share your thoughts through comments below.