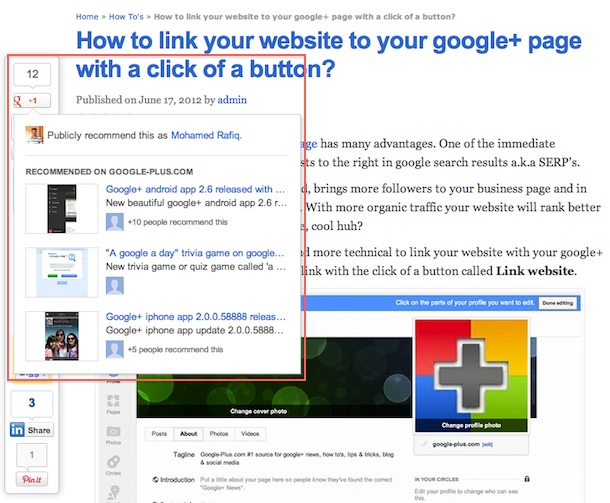 Google +1 Button Recommendations for Your Site Content Coming Soon!
Google +1 Button Recommendations for Your Site Content Coming Soon!
---
Do you use Google +1 button for your website? As a site owner here is a treat to increase your site traffic and reduce your bounce rate.
Plus one (+1) button team is introducing a new feature:  When you or your visitors hover the mouse over the +1 button it automatically shows a list of content recommendations right from your site (you don't have to do any changes or settings).
This is not a released feature and it's still in preview mode just only enabled for a few sites owners in the preview group (refer image below to get a sense of this new feature or hover over the +1 button on this page and it'll automatically show the recommended content)
While +1'ing or voting on any site content they like this would give your visitors the ability to discover great content from your site. This is a win-win situation. Your users get new recommended content and helps site owners to keep the visitor more time on the site. An improved bounce rate and more traffic.
If you are part of the preview test group you have nothing to do. Just head on to your site and see if the recommendations appear. For others, as usual this feature might stay with the preview group for a few days and rolled out to all the sites soon.
Update 9th July 2012
+1 recommendations (discovering great content from the same site) was officially released today and will be rolled out to all users in coming days.